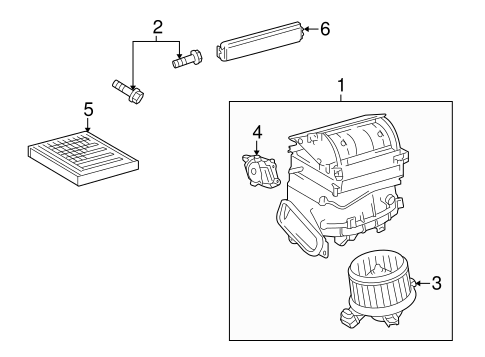 No.
Part # / Description
/ Price
Price
Mount Bracket Bolt
Blower Assembly Screw
#1. Us built. Japan built. Virtual engine sound system.
Blower Motor
Fan & Motor
Incl.Impeller and HVAC Blower Motor Control Module. With climate control. Prius V. Corolla. Japan Built. With auto ac. Without moonroof. Without solar roof. Without plug-in model. Automatic Temperature Controls.
Fan & Motor
Prius. With moonroof. With solar roof. Without plug-in model.
Servo
With climate control, japan built. IM. Recirculation.
Cabin Air Filter
Filter
Its Pollen Season Make sure you have Clean Air Change your filters before the surge of pollen, then your car will be prepared to handle it when the dustings of yellow become more widespread. Filter both recirculated and fresh air. Work to minimize circulation of unwanted particles in the passenger compartment. Capture dust, pollen and other unwanted airborne particles.
Cabin Air Filter
Without climate control, with deodorant type. Avalon, Avalon hybrid. Highlander Hybrid. RAV4, RAV4 hybrid. Camry Hybrid. Land Cruiser. Prius V. 4Runner. Sequoia. Prius C. Sienna. Tundra. Venza. Yaris. TC. IM. France built. From 05/2012. Charcoal type. With charcoal. With deodorant filter. Front, pollen/deodorizer. 4.6 & 5.7L, deoderant type. Deodorant/pollen filter. 4.6L, 4.7L & 5.7L, charcoal. Deorderant & pollen filter. Us built, deodorant/pollen typ.